FROM: THE CENTER FOR A NEW ECONOMY
Time is running out to pass important immigration reform bills in Connecticut.
The session ends June 5th, and when it does will we be able to look back and say we expanded economic opportunity in our state?
Join CCNE, CIRA, CIVIC, immigrants, faith, community and labor leaders from across the state for a mass
Immigration Rally and Multicultural Festival this Saturday, June 1st at 1:00pm in Hartford's Bushnell Park.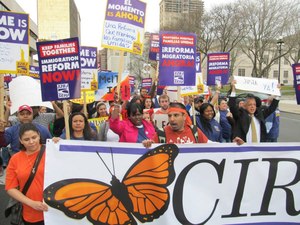 Let's say
no
to racial profling and the separation of families.
Let's fight for our dreams
- to live free from fear and discrimination in welcoming communities where everyone is treated with dignity. Help us pass critical immigration reform bills while celebrating our diversity and having some fun with your family and neighbors.
And to stay up to date on immigration reform efforts and the broader movement for economic and racial justice, be sure to "like" CCNE's facebook page:
www.facebook.com/pages/Connecticut-Center-for-a-New-Economy/27935807063?ref=hl
Posted by Tom Connolly